There's something for everyone in the graphic design tool marketplace. We've included features that allow you maximum creative flexibility if you're a professional designer searching for software that keeps up with your skill. There are several alternatives below for you if you're a business owner searching for an easy, low-cost solution to produce graphics for your company.
We have listed top graphic design software for you:
DesignCap is a free online graphics software that provides a variety of theme templates to let you rapidly make posters and flyers. However, their internal staff will incorporate more infographics types of templates for you.
If you're searching for a cost-effective way to promote your business and gain more exposure, creating posters and flyers is the way to go. Then just use DesignCap to produce stunning posters and flyers.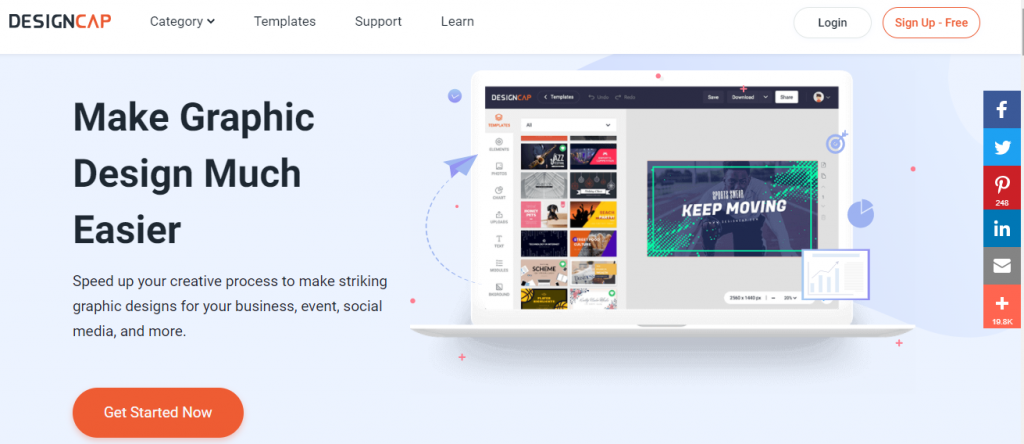 Features:
Fully customizable.
No coding skill required.
Unlimited templates.
Easy download.
Create a poster in a minute.
Pricing:
DesignCap is totally free of cost.
Placeit provides the largest design and layout template library, which is ideal for company owners, entrepreneurs, and marketing teams who need professional designs quickly. This online tool includes a logo builder, design and social media templates, as well as videos for a variety of businesses. When you're happy with the results, you can quickly edit, save, and download them. You'll be able to develop your own brand.
Features:
1000+ free templates.
Drag-n-drop editor.
Highly customizable.
Create videos, logos, posters.
Pricing:
Both free & paid version available:
Monthly: $14.95/mon
Annual: $89.69/year
PhotoADKing is a graphic design software that allows users to create anything from social media advertisements to marketing materials and short marketing films in a matter of minutes.
You can personalise any design and post it on a variety of social networking sites. Additionally, you may download and save it to your personal device for future use.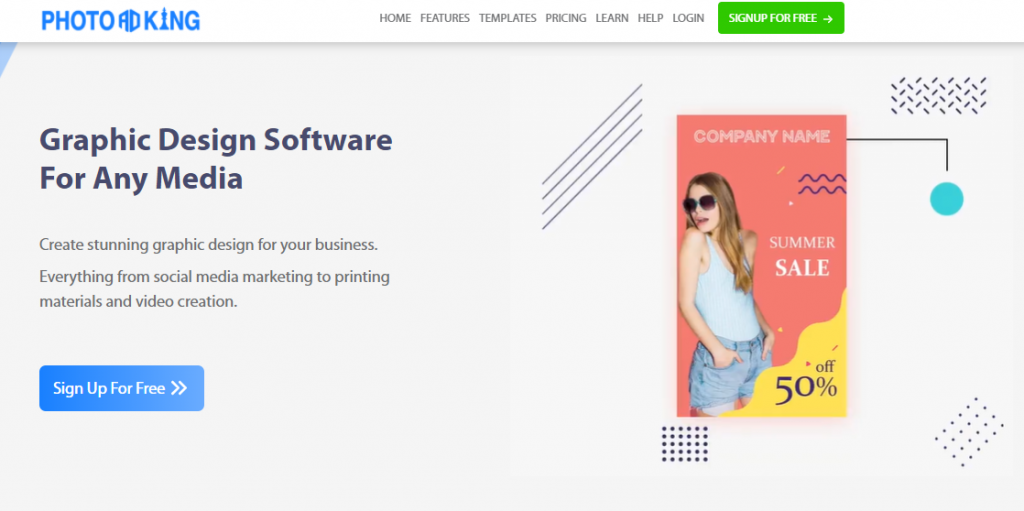 Features:
10000+ images & videos.
Integrated graphics & videos collection.
Remove background from image.
Create objects with a 3D editor.
Easy drag & drop online tool.
SVG supports.
Creative Font library.
Pricing:
Free: $0
Starter: $4/mon
Pro: $8/mon
Conclusion:
Every creative wants the greatest graphic design software, but if money is limited or you're just starting out, the best free graphic design software may have to do.
This article will help you to choose the best graphic design software for your work. If you have any suggestion or we miss your favorite tool, feel free to share with us at admin@myinfoadda.com or drop in the comment section.
You may also like:
Best Woodworking Design Software(Free & Paid)
Best Photo Editing Software & Online Image Editor