Munnar, Kerala
Tea Gardens, Lakes and Pretty little hill-station
Munnar is one of the most attractive and popular hill-stations of Kerala. It is situated on the banks of three rivers- Madupetti, Nallathanni, and Periavaru. The beautiful hill station Munnar is famous for its tea plantations, exotic lush greenery, and craggy peaks are located in the Western Ghats, in the state of Kerala. The rolling hills around Munnar, South India's largest tea-growing region, are carpeted with bright green tea plantations, contoured, and shaped like ornamental hedgerows. In addition, Munnar has many secure areas which are home to endemic and highly threatened species like the Nilgiri Thar and the Neelakurinji. Munnar is parted into Old Munnar and Munnar, In Old Munnar the tourist information office is, and Munnar, where the bus station and most guest houses are situated. The Salim Ali Bird Sanctuary, Eravikulam National Park, and tea plantations are its major attractions. Munnar is also famous for its medicinal plants and herbs. It is blessed with the fruits of nature. The several hills, tea plantations, National Parks, Rivers, and lakes have made Munnar a crucial tourist destination in India.
What is the best time to visit Munnar?
The best time to visit Munnar is all over the year, except monsoon. Winter season from October to February is the best time to visit because the temperature goes as low as 10 degree Celsius. Cool winds blow during the day. Sightseeing becomes a lovely experience. Also, adventure seekers can enjoy activities like trekking, rock climbing, and rappelling. The beginning of the Summer season in Munnar from March to June. The temperature ranges between 19 degree Celsius to 35 degree Celsius. The best time to visit Munnar is all over the year, except monsoon. Winter season from October to February is the best time to visit because the temperature goes as low as 10 degree Celsius. Cool winds blow during the day. Though the days get hot, it is an ideal time for tea plantation visits. July to September is the best season to visit Munnar for a peaceful retreat. Monsoon season (July and August) experiences heavy rainfall, which could obstruct your travel plans.
Mattupetty (13 km from Munnar)
The Mattupetty is Situated at a height of 1700 Mts, It is famous for its highly specialized dairy farm, the Indo-swiss live stock project. It is a beautiful tourist spot.  Over 100 diversities of high yielding cattle are nurtured here. Visitors are permitted into three of the eleven cattle sheds at the farm. The sprawling Kundala lake and the Kundala tea plantations are other attractions in the locality. The Mattupetty Dam is a very famous picnic spot and is visited by many tourists. In the vicinity of the dam is a beautiful lake where you can enjoy a serene boat ride on the calm waters.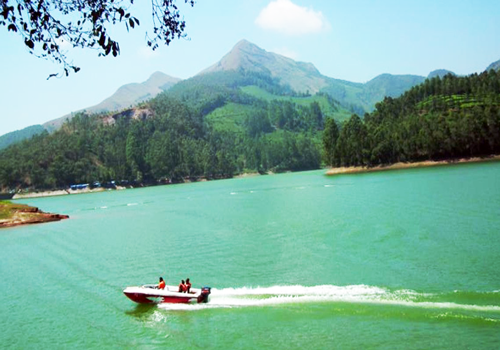 Pothamedu View Point (6 km from Munnar)
Pothamedu is Located around 6 km away from Munnar, the Pothamedu Viewpoint is set among tea, Coffee and cardamom plantations and undulating hills. The vantage point offers a panoramic view of Munnar and contiguous valleys. The rolling hills, the lush mountain and the wonderful scenery here is ideal for trekking and long mountain walks. It is a famous spot for visiting. The place is placed at a good height and one can feel this once they reach at the top and watch the cars and other vehicles approaching up through the winding road.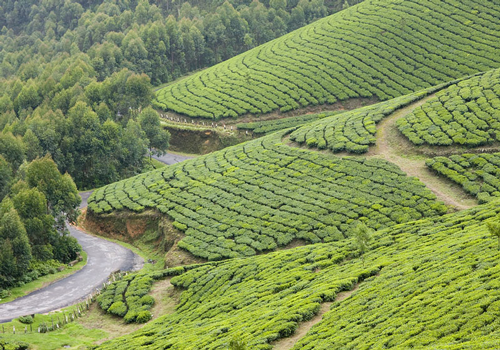 Devikulam (5 km from Munnar)
Devikulam is a small hill station located about 5 kilometers from Munnar. Its velvet lawns and a vast range of exotic flora and fauna have made it a must-visit spot for all who are in the locality. The Sita Devi Lake with its mineral waters and scenic surroundings is a good tourist spot. The lake is also ideal for trout fishing. In Devikulum cool breeze and beautiful views all around provide for an incredible trekking experience. The Sita Devi Lake at Devikulam has a tale that Sita, wife of Lord Rama, took a bath in this thermal water spring, making it a holy pilgrimage place to visit by the tourist.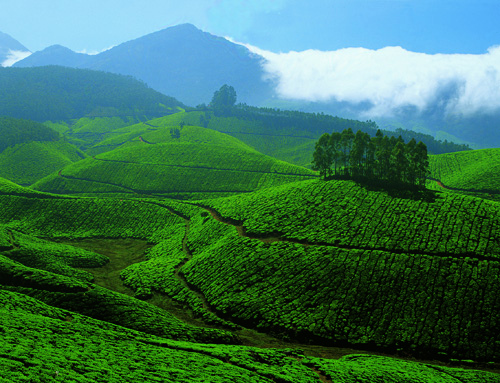 Pallivasal Falls (8 km from Munnar)
Pallivasal is situated around 8 km from Munnar town and is in close proximity to Sita Devi Lake, which is, however, another attraction in Devikulam. Pallivasal falls is one of the most popular waterfalls in Devikulam area of Munnar, outstanding for picnics, trekking, and sightseeing. The travelers who want to spend some time away from the murmur madness of cities can find absolute peace and comfort here. It is an ideal location for a nature walk, sightseeing, and trekking; mostly every tourist who visit this place like to spend time in calmness revamping themselves.
The Pallivasal fall is located in Idukki district, which is also the venue of the first Hydro Electric Project in Kerala and a place of immense scenic beauty. The village is surrounded by many fascinations, giving tourists plenty of opportunities to enjoy the flawless beauty of nature to its fullest. The waterfall, which is surrounded by luxuriant flora is a perfect spot for peace seekers, who can spend their precious moments amongst the serene environs.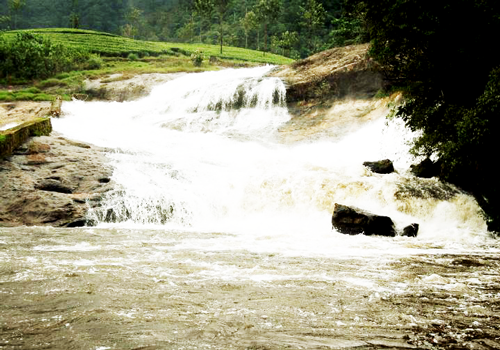 Vattavada (50 km from Munnar)
Vattavada is located about 50 kilometers away from Munnar. This place welcomes you with its zigzag roads which offer you the sight of the beauty of its hills tourism spot at every turn. Vattavada is lovingly known as the market of Kerala. This area produces a wide variety of crops, which are usually not seen in other parts of Kerala. These crops include varieties of apple, orange, strawberry, blackberry, plums, gooseberry, egg fruits, peaches, passion fruits etc. Also the flora region has a large variety of fauna.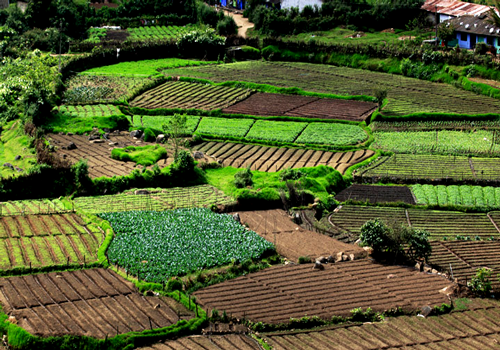 Attukal Waterfalls (9 km from Munnar)
The Attukal waterfall is situated around  9 km from the Munnar town, on the way to Pallivasal. Attukal offers the beauty of the water falling from the top of the mountain. Attukal Waterfalls is an attractive spot visited by tourists as well as locals. This waterfall can be reached through a slender wooden bridge.
The fall looks like a glittering silver line from a distance but as you come closer, you will see water falling from a towering height. The beauty of the waterfall is at its best throughout the monsoon season. Besides its natural splendor, the site is also ideal for trekking and hiking. If the water level is low, one can squish in the water pool formed at the bottom of this fall.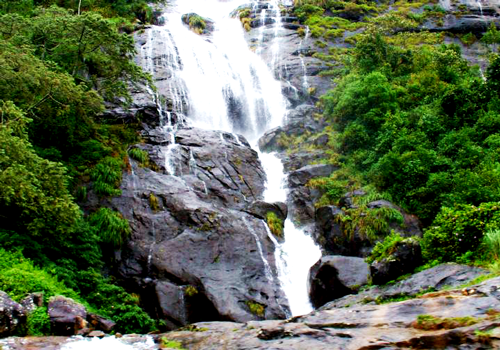 Nyayamakad (10 km from Munnar)
Nyayamkadu Waterfalls are located around 10 km away from the beautiful town of Munnar, on the way to Rajamalai. The bubbling water cascading from an altitude of 1600 meters, along with the rich green forest, attracts every visitor. The attractive surroundings make an excellent picnic spot and trekking point. The beautiful waterfall is surrounded by lush green forest, which will be a flawless spot for those who love adventure and want to have a trekking experience. The best time for Visit Nyayamakad after the monsoon, as the weather will be perfect during summer and winter.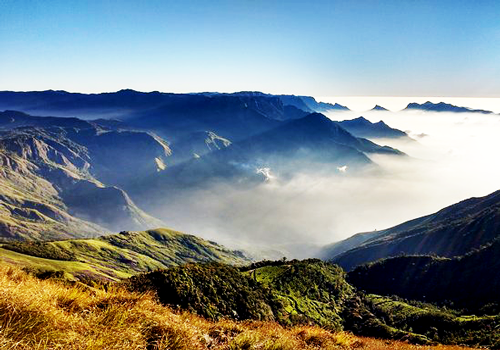 Meesapulimala (15 km from Munnar) 
Meesapulimala is situated in the Idukki district of Kerala. This is the second highest peak in the Western Ghats, It contains eight hills that spread like a mustache, giving it its name. It is situated at a height of 2,640 meters above sea level. The Meesapulimala Peak is rich with lush green valleys, flourishing Rhododendrons, pleasant tea plantations, and flawy brooks. The beauty of Meesapulimala has to be enjoyed by trekking. The 8 kilometer long trek from the Rhodovalley, 15 kilometers from Munnar town, offers the trekkers breathtaking views of the grasslands, rainforests, and wildlife present at the high altitude.
Rajamala (15 km from Munnar)
Rajmala is located about 15 km from Munnar. Rajmala is a small, attractive hill station situated at an altitude of 8,983 feet above sea level. The Rajmala is the natural habitat of the rare species of Nilgiri goat also known as Nilgiri Tahr. The Tahr is becoming fast vanished and at one time more than half of this rare species could be found in the Eravikulam-Rajamala region. Once you are at Rajmala, you can spend time sightseeing the hills and nearby valleys. The total number of Niligiri Tahrs in Rajamala is expected to be over 1300. Visitors are not allowed during monsoon season.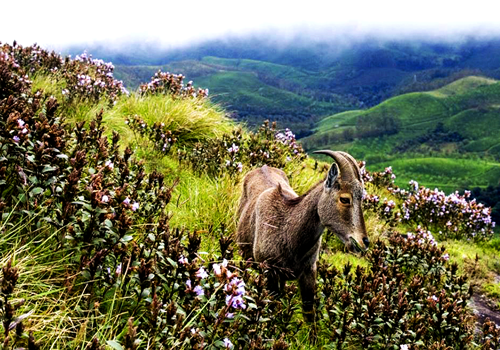 Eravikulam National Park (15 km from Munnar)
Eravikulam National Park has situated around 15 km from Munnar. The National Park houses a huge variety of flora and fauna; moreover, the beauty of the park is unequaled.
Eravikulam National Park is Kerala's first national park. This park is popular for its collection of tahr. Nilgiri tahr is a goat like species that is vanishing. One can easily spot tahr in this park. Some rare animals and endangered species of butterflies can be visible here. The park is also popular for an excessive view of tea plantation, rolling hills, and neelakurunji. Neelakurunji is a blue colored kurunjiflower, which blooms once in 12 years. Eravikulam National Park During the summer season, the valleys will be covered with blue carpet made of Neelakurunji. The park is also famous for Anamudipeak, which is the highest peak in South India.
The Eravikulam National Park covers 97 square kilometer area along the well-known Western Ghats. Munnar wildlife division and the Forest and wildlife division of Kerala run it. The park is a heritage site. The Eravikulam national park's topography includes hill plateau, grasslands, shoals, mountain peak, perennial streams that merge with Periyar River or Pamba River, waterfalls and others.
HOW TO REACH
BY AIR:
The nearest airport is Cochin International Airport, which is about 125 km away from Munnar. Regular taxi services from the airport to Munnar are gradually available.
BY RAIL:
The nearest railway station is located in Kochi or Ernakulam. It is a major junction of the trains coming from various parts of India including Delhi, Bangalore, Mumbai, Kolkata, Mangalore, etc. However, Aluva Railway Station is closer to Munnar with a distance close to 120 km.
BY ROAD:
Once you land in Kochi, Aluva or Ernakulam you can hire a cab or take a bus to Munnar. For case, you can book your tickets at Kerala State Road Transport Corporation (KSRTC) website or get it from the counter of the bus terminal located next to the Aluva railway station.
ADVENTURE ACTIVITIES
Mountain Biking
Trekking
Rock Climbing and Rappelling
Boating
Elephant Safari
Paragliding