Email Marketing from the Scratch: Atomic Email Studio
Want to try email marketing to promote your business, but lacking necessary skills? The budget is limited, but time is running out? Just take a valid mailing list somewhere, create an email layout, and send it to potential clients. Sounds slow and difficult? Nonsense! With the proper tool, you'll start your first mass mailing campaign today.
Atomic Email Studio ─ all-in-one marketing solution for automation of your mass mailing efforts. Efficient lead generation booster via email for everyone.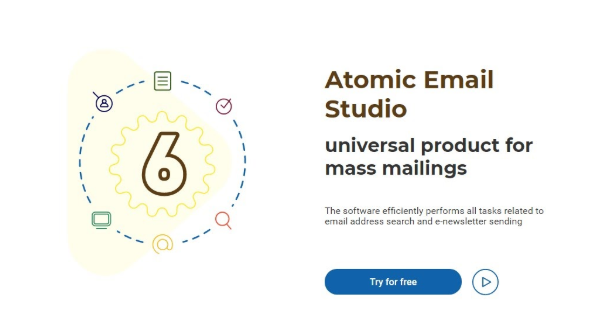 Atomic Email Studio email marketing tool consumed to be a suite of 6 components for each step of a professional mass mailing campaign. Atomic Email Studio software for email finds emails for your target audience, verifies and manages the resulting contact database, so you have to choose a template and send a newsletter in unlimited mode. Want to know more? Read on!
Reach Email marketing goals with Atomic Email Studio
1. Search for contacts on the Internet
Not sure where to get the target contact base?
Gather contacts of potential customers and personalize email lists without limits using Atomic Email Hunter email parser. As a part of Atomic Email Studio, it searches for emails by URL, domain, location, and keywords on target websites, socials, and your mailbox.
2. Search for contacts on your PC and connected devices
Sure that your devices already have the necessary contacts, but don't know what files to search for emails?
Collect contacts from any files both on your computer and on connected devices with the help of Atomic Email Logger email address collector. The tool will handle all types of files and will search for emails even in the browser cache and messengers.
3 Search for email domain owners
Want to find the contacts of the website owners?
Gather a list of thousands of email addresses from the Whois database with email parser Atomic Whois Explorer. The tool works with proxies, can filter non-existent addresses, check domains, and search by keywords.
4. Email validation
Clear your mailing list from invalid email addresses to eliminate the possibility of getting into spam using email verify tool Atomic Mail Verifier. The program will check the syntax of emails, their existence, and analyze the domain to remove invalid addresses that can lead you to a spam folder.
5. Mailing list management
Want to sort the resulting mailing lists to segment your audience and avoid getting into spam?
Separate and merge lists, sort and personalize them, eliminate duplicates with the help of the Atomic List Manager tool. The program will sort the lists automatically and leave only the correct emails to prevent your newsletter from falling into the spam trap.
6. Send mass email campaigns
Plan, create, send email messages with Atomic Mail Sender. The tool provides free templates so that you can create your newsletter without design skills and knowledge of HTML. Besides Atomic Mail Sender email bulk sender is able to make spam tests and send newsletters in unlimited quantities.
Why Atomic Email Studio is one of the best software for email marketing?
What are the monthly subscriptions for similar services: $299, $250, $259? Atomic Email Studio costs $229. Buy once, use forever.
There are no limitations to work. Buy it once, and use software for email marketing without limits. Services are distinguished by the need to pay regularly to extend the tariff.
User-friendly interface that is intuitive even for a beginner.
You don't have to buy additional tools. Everything you need for a professional email campaign is already in Atomic Email Studio. It saves money and time.
What if there are troubles and questions? Technical support works even when you sleep. They are ready to help 24/7.
To summarize:
Atomic Email Studio all-in-one email program is capable of performing the work comprehensively. You do not have to buy anything extra.
There is no need for special email marketing skills to send newsletters using Atomic Email Studio email campaign tool. The program will do everything for you.
Software for email marketing is more profitable than services because it is often cheaper and you will pay only 1 time and use without limits.
Still in doubt?
Try the best email marketing software! Test the key Atomic Email Studio features 7 days for free.